When visiting the Lake District, getting on board Windermere Lake Cruises is an absolute must! I mean it is in the top ten attractions in the UK.
Lots of options to choose from on the Lake, their 45-minute yellow cruise which will take you down to Lakeside where awaits our Lakes Aquarium or take our steam train to Haverthwaite. You can also call into our Lake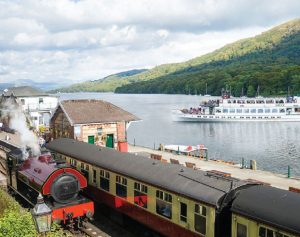 land Motor Museum and see some fantastic classic cars.
Another favourite would be the 30-minute red cruise which takes you to the top of lake where you can visit Ambleside, on the route up you see some beautiful views of our stunning Lakeland fells. When you hit Ambleside, you can walk into the town take a walk up to the waterfall, grab some lunch have peak around the quirky little shops they have and hop on board back to Bowness whenever your ready! If you are stuck for time but want to see the lake, then just hop on board the blue cruise which is the island cruise, this gives you 45-minute cruise round the islands on the lake, this starts and finishes at Bowness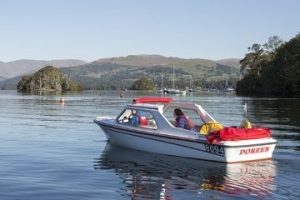 Want to drive yourself? Fancy yourself as a bit of captain? Well fear not, they have you covered they also have self-driver hire boats, which you can hire from Bowness, they do 1 hour, or 2-hour sessions and you can take it where ever you like (a part from Bell Isle of course this is the private island on the Lake).
Want to do a bit of walking whilst out on your lake cruise, you can purchase the walkers tickets. There are 2 options for the walker's ticket, one you can go from Ambleside you take a traditional wooden launch to Wray Castle jetty.  Before you begin your walk you could visit Wray Castle which is owned by the National Trust and is now open to the public. You then take the path left of the boathouse to follow the lake shore south to Ferry House.  Catch the Cross Lakes Shuttle back from Ferry House to Bowness where you can stop off for a cup tea and slice of cake at the Pier Cafe before catching the third boat of the day back to Ambleside or alternatively, you can start at Bowness, sail north to Ambleside and catch the traditional wooden launch to Wray Castle Jetty and then follow the lake shore south to Ferry House as above. Catch the Cross Lakes Shuttle back to Bowness for your third boat trip of the day.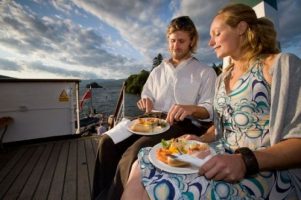 During our summer months (yes hard to believe it but we do have a summer here) Lake cruises offer a Summer Evening Buffett Cruise on board one of their 'Steamers' every Saturday in June and Saturdays and Wednesdays in July and August. The cruises depart from Bowness at 7pm for a two-and-a-half-hour cruise, you can watch the sunset over our Lakeland fells and listen to music (Jazz Band), whilst tucking into a two-course cold summer buffet. I mean it really is the best way to enjoy a lovely summer evening in the Lake District, they are popular though so make sure you book your tickets in advance just Click Here
They are under cover, cause let's face it we do have a lot of rain, but they also have the bar indoors (which is of course most important)
So make sure when you do arrive you get on aboard these Lake cruises! You would be mad to miss them!